Mahaprasad Distribution :
Shruti and upanishandas have suggested the great ideology- 'Food is Bramha (God)' and it has the prime importance that all the organism on the earth originated from food, living on food and get lastly inserted in to food when they get dead. Therefore it also says that Annam Na Parichakshita whichmeans do not waste the food and do not insult it.
Similarly when Shri Gajanan Maharaj landed in Shegaon, his action of picking up the leftover food conveyed the same importance of food. Shree taught us the great lesson - 'Annam Bramheti' which means- Food is the Supreme Spirit we should follow this lesson creating the faith as food is Supreme Spirit. Following the same great philosophy Shri Gajanan Maharaj Sansthan, Shegaon has an unending provision of Mahaprasad for devotees, who visit Shree's Samadhi Mandir in great number throughout the year.
Sansthan has a very effective system of Mahaprasad distribution where 5000 devotees can have food by seating alternately at a time without any chaos during 09.00 am to 9.00 pm at free of cost every day.The Mahaprasad include Poli ,Bhaji, Rise and 1 Sweat item everyday. On an average, around 40,000 to 45,000 devotees are served Mahaprasad every day at Shegaon and including other places of Shegaon Sanshtan around 45,000 devotees are served Mahaparas every day.

For the most important occasions of Sansthan- Shri Pragat Din, Shri Ramnavami and Rishi Panchami ( Shri Punyatithi- Samadhi Din) utsav, the devotees from different parts of the country turnout at Samadhi Mandir of Shegaon in very large numbers (around 1,50,000 to 1,75,000) and for all of them, Mahaprasad is served by Sansthan which is prepared by volunteers with true devotion & dedication In only 12 hours.

For Mahaprasad more than 42,000-quintal wheat, rice, sugar and green vegetables are used every year.

For such a great gathering of devotees on important festivals of Sansthan, a separate and systematic arrangement of Mahapras is done by Sansthan to provide food for all devotees. For each important festival, more than 1 lakh devotees are served Mahaprasad.
Arrangement of Brakfast, Lunch and Dinner :

Shri Sansthan has the arrangement of breakfast, lunch and dinner for more than 9000 devotees everyday. Including Branches of Shri Sanshtan around 50,000 devotees are served Prasad every day.

Arrangement of TEA, BREAKFAST, LUNCH AND DINNER is as per the following table: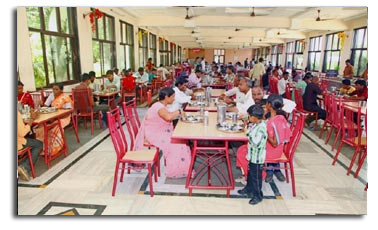 1

Shree Mandir Primises
(Shri Mahaprasadbari)

Shri Mahaprasad

09.00 am to 9.00 pm.

2

Bhakta Niwas Complex No. 2
Bhakta Niwas No. 6

Break Fast

7.00 am to 10.00 am

4.00 pm to 7.00 pm

Lunch & Dinner

10.30 am to 1.30 pm
& 7.00 pm to 9.30 pm

3

Bhakta Niwas No. 5


Break Fast

8.00 am to 10.30 am

4.00 pm to 7.00 pm

Lunch & Dinner

11.00 am to 2.00 pm
6.30 pm to 10.00pm

4

Visawa

Bhakt Niwas Sankul

Break Fast

6.00 am to9.00 am

4.00 pm to 7.00 pm

Dinner

7.00 pm to 11 pm

5

Anandvihar

Break Fast

8.00 am to 10.00 am

4.00 pm to 7.00 pm

Lunch & Dinner

11.00 am to 2.00 pm
7.00 pm to 10.00pm